Search
results for

: netball

We found 17 results matching your criteria:
Drills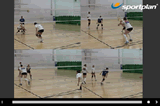 category: 5-Drills
Volleyball Set Relay Over The Net 5 Drills 3 Players involved in a Set Relay.

category: 2-Warm-Up
Volleyball Serve Warm Ups 2 Warm Up A relaxed swing aiming about 5 metres in front of the server, to warm up shoulder muscles.

category: 4-Passing-Drills
Volleyball One on one underarm passes 4 Passing Drills Players compete one on one over the net taking underhand passes only. Each of the players is a...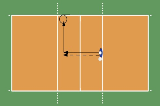 category: 10-Setting-Drills
The player starts in the opponent's zone 3 and overhand passes the ball over the net to zone 3 on the other side of the court. They then move under...
Web Videos
Two national codes, Netball and Volleyball, will host their respective national championships in Port Moresby and Lae during the long independence wee...
Community Drills
•4 players stand in a diamond shape •Player A run towards the yellow cone •Player B call out C or D and throws the ball •Player A catches the ball and...