Search
results for

: chest pass

We found 50 results matching your criteria:
Drills

category: Passing
Netball Chest pass Passing Players in pairs with one ball about 5 metres apart.

category: Passing
Netball Chest pass (side) Passing keep your eyes on the target Step forward with either leg Push through the ball using your elbows Use the step to d...

category: Passing
Netball Chest pass on the move Passing Players work in pairs with 1 ball. The feeder stands static and feeds the ball to the worker. The worker runs ...

category: Passing
Netball Chest to Bounce Pass Passing 2 balls, 2 players face each other. Both players pass the ball straight and at the same time, but one player use...
Web Videos
This guide shows you How To Chest Pass Watch This and Other Related films here: ... Subscribe!
This video guide breaks down the chest pass- an essential skill for the game of netball. Want to shoot like England Goal Shooter Joanne Harten? Pass l...
Sessions
Chest passing is the most used pass in Netball, so teach your beginners to pass perfectly in their matches.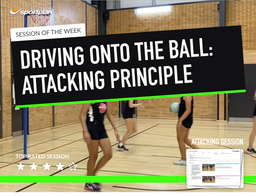 Get your players driving onto the ball with this attacking session, helping them to lose their marker and create space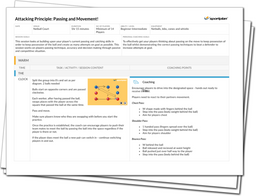 Improve your team's attack by working on their passing and movement with this attacking session
Develop your player's core strength, improving their fitness so they can drive for the ball and pass with power!
Community Drills
Players pass ball between them following the structure depicted using precise but fast chest passes. The players aim is to pass down the line and back...
Techniques and drills: last person to get to 10 passes without dropping the ball has a suicide run of the pitchpass 1: chest pass, technique - step fo...
Players line up in 4 linesBall begins at line 1 and 2Players from line 3 and 4 run forward and receive chest pass and pass back to feederPlayers conti...
Two feeders are required.You need 1 defender.The feeders will give a chest pass together, continuously. The defender needs to run around one feed...