Search
results for

: fun Games

We found 16 results matching your criteria:
Web Videos
Warm up drill for NEtball.
Switch is a game which can work on your player's spatial awareness, reaction time & speed. Equipment • Flat makers (You can use cones BUT do not forge...
fun netball drills - https://pro-netballdrills.com/fun-netball-drills/ if you like the video pleas read also the article at it is interesting.
Sessions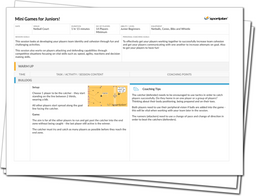 Help your junior players bond and play together with this mini games session, with plenty of fun exercises to get them smiling!

Help your team get to grips with their role and responsibilities on court with this session

Coach this adrenaline packed plan and teach all your players how to dominate in defence, deny space and regain possession
Plenty of games and challenges in this netball plan to test your players' passing accuracy, as they develop their teamwork and ball handling skills