Team roles and responsibilities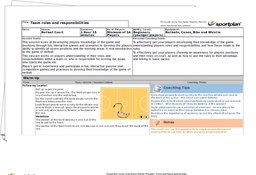 Develop your players' knowledge of the game and help them learn their roles with this session! Make sure your players know exactly what role and responsibilities they have in their position, with the use of fun games and interactive scenarios, to get them ready for the season.
It's important that your players are not only aware of what it is expected from them in their own position, but they also have a good understanding of what their team-mates include as well. Help them to identify all of the positions on court and understand what each position?s role is, with fun exercises such as Guess Who?
Whilst this is a perfect session for the beginners on your team, it's also handy for your veterans as well, ready to refresh their memory and help out with their inexperienced team mates. Get your team showing an awareness for players' positions, as well as how to use rules to their advantage, by understanding each position and using their roles for tactics.