Progressive Overload: Speed and Endurance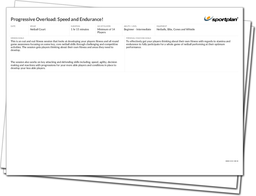 This session looks at improving your player's fitness, focusing on key core elements such as stamina, speed and endurance. By efficiently working on the areas your team needs to improve on, your players will be able to perform at their highest level throughout the entire match. Stop your players from tiring easily!
Get your players warmed up with a game of Bulldog, focusing on their agility and using the warm up as a fun way for team bonding. Take your players through the session, by using fun but effective drills, developing their fitness and tactical thinking ahead of your next match.
Get your players thinking on improving their own fitness, helping them to perform at their optimum performance, so they can develop key attacking and defending skills. Don't watch your players struggle on court!