Fitness Session 1 for optimal performance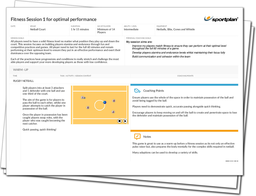 It is important that every play in your squad can last the full 60 minutes if necessary, therefore ensuring their fitness is up to scratch is key.
What's in the session?
The session begins with a fun warm-up to get your player heart rate up and to begin thinking about their movement and considering the space available. The session provides a series of high-intensity practices intended to get your players working hard and improve their fitness. It is important that your players practice their ball skills and passing under fatigue as this will help replicate the intensity of a game. The session concludes with a modified game of netball that will really test your player's skills and concentration under fatigue.
Ensure each and every player within your team is accountable for their fitness and is able to take the court at any given moment.