Search
results for

: session plans

We found 28 results matching your criteria:
Drills
Netball Print your Sportplan sessions Did you Know Youth Print your Sportplan sessions Did you Know Netball drills, session plan, lesson plans and pr...
Web Videos
This netball video guide will show you a drill to work on team movement when atttacking. You can easily involve different numbers of players and rotat...
Tutorial for planning team set ups and player interchanges.
Netball game focused on speed of ball movement and defending the player and the ball. KS2 Primary PE game. Primary PE Lesson Plan Ideas for teachers.
Check out the Netball Drills for 12 Year Olds here: ... Finding fun and exciting Netball Drills for kids or ...
Sessions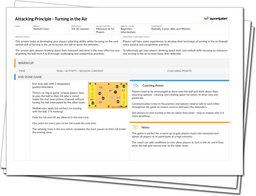 Get your players turning in the air and developing this attacking principle, giving them the advantage on court!
Three is the magic number! Get your players to make the right decisions when defending - mark, block or intercept?
Flexibility, speed, plyometrics and fundurance - work on all of these systems in this fun and tiring fitness session!

Teach your players this movement pattern to help them trick their marker and spin into space!