Forcing errors and making interceptions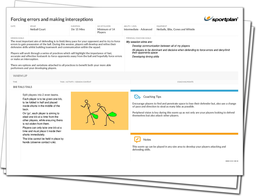 Having the correct technique, combined with fast footwork, timing and body angles, make going for interceptions more successful.
What's in the Session?
The session begins with a fun warm-up encouraging players to find and penetrate space in order to essentially lose their defender. This will get your players thinking about their movement and body positioning in order to avoid being caught. The session develops to provide a series of drills focused on your player's footwork and timing of their movement. 'Intercept and covering' allows your players to take what they have learnt in the previous drills and to begin working as a unit, putting together the three stages of defence. The session concludes with a developing drill, putting your players in control so they can demonstrate what they have learnt.
It is important your players don't simply work in isolation, for the greatest success, your players should work as a unit.