Attacking Principle: Use the Reverse Pivot!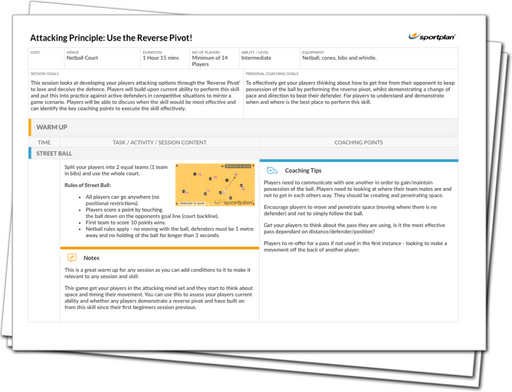 This session looks at developing your players' Reverse Pivot, working on effectively deceiving their marker and help maintain possession for your team. Build on their current ability to perform this skill, fine tuning their technique before seeing how they use this play in a game situation. It's key that your players are able to recognise the correct situation to use the reverse pivot in, so they can help create far more attacking options for your team!
What's in the Session?
Start off with a couple of warm up drills, to get your players moving and ready for the session ahead. Communication is key throughout this session, so it's important for the coach to be able to hear plenty of talking from their players straight away! Recap the skill with your players, ensuring the correct technique is being used before heading on to develop their skills further, by using various game scenarios. See all of your progress come together in the final game, putting your players into a practice game situation, so they are familiar for their next match!
Watch your players outwit the opposition and create more scoring opportunities!