Building Match Fitness and Game Awareness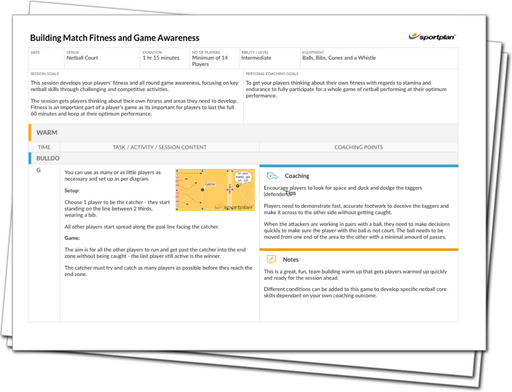 Develop your team's fitness and all round game awareness, with the use of challenging activities, ready so they can last the full 60 minutes! Ensure that your players are able to perform at a high level, by improving key areas of their fitness such as stamina, encouraging them to also work on their individual fitness outside of training.
What's in the Session?
It's essential that your players are fully warmed up for the session, so you help prevent any injuries, as well as getting your players fully focused for the session ahead. It's also important that your players work together as a team, with the practice Shooting Shuttles working on both their shooting and stamina skills, so they are able to pull off the shoot when tired.
By working your players hard and improving their fitness, they'll be in tip-top shape ahead of your next few games, as well as improving their overall awareness on court. Use this session today and don't fall behind in the match!