Developing Reactions to make Dominant Decisions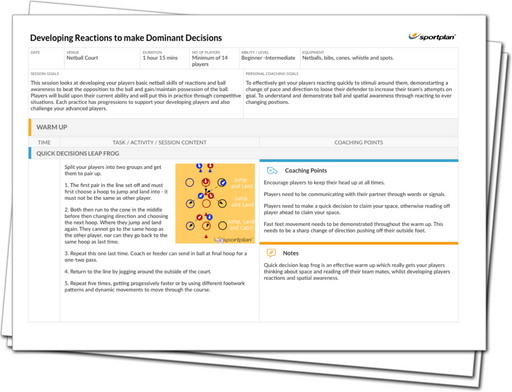 Get your players reacting fast to beat the opposition, ready to maintain possession and go forward towards their net! Build upon their current ability to react quickly, putting into practice their skills in competitive situations, by improving their peripheral vision. By your players reacting the quickest, they can give your side the advantage by changing their direction and speed, putting them firmly ahead in their match!
What's in the Session?
Get started by getting your players ready for the session ahead, ensuring that they are fully warmed up to reduce the risk of injury. Start working on the skill needed from your players straight away, before moving on to directly develop your player's reactions. Get your players working hard as a team in different scenarios, so they can get used to what is expected in a game situation. Watch their progress in a modified game to finish the session off on, throwing in the difficulty of two balls on the same court!
Get your players reacting as quick as lightning, and win the game!