Forcing Attackers to the Outside & Make Errors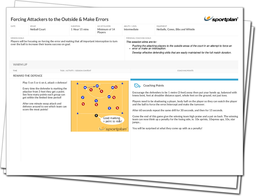 In defence players need to be dominant, decisive and alert at all times in order to gain possession of the ball. They need to force the attacking play to the outside of the netball court to limit and deny space for the attackers.
What's in the session?
So this session looks at developing players defending capabilities with the focus on denying and limiting the space of the attackers to force errors through applying pressure on the ball and timing of drive to intercept the ball.
Each practice has progressions to stretch and challenge your more able players and conditions to aid your developing players to achieve the session goal.