Dummy the Defence with a Reverse Pivot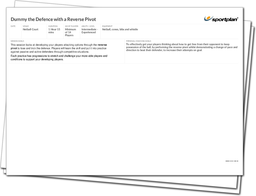 Trick the defence with this attacking session, by using the Reverse Pivot to lose the marker, setting your team up to go on the attack! Learn the skill through a number of challenging exercises, using both passive and active defenders in competitive situations, giving your players the opportunity to get free fro the opposition.
What's in the session?
By using exercises such as Pivot and Pass, watch your players learn the correct technique for the Reverse Pivot, working on different skills such as their basic footwork. Get your players thinking about how to effectively keep possession of the ball and when is the right time to pivot, using a change of pace and direction correctly, ready to increase your efforts on goal.
Dummy the defence with a Reverse Pivot and get on the attack with this session!