Defending Principle - Pressure to Intercept!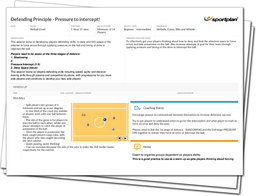 This session looks at developing your team's defending skills, pressuring the opposition and forcing the interception, so your team can get on the front foot! With the use of this defending principle, get your players thinking of how to force an error and intercept the ball.
What's in the Session?
Get your players warmed up and raring to go, with a fun conditioned game, before focusing on developing their defending. Get your players aware of when to go for an interception, making sure they have the correct movement and position to act quickly, and time their move to perfection. Speed and agility are essential when defending, particularly when your players are looking to force an interception!
Improve all of these areas with the use of fun but effective exercises, ensuring they are on their feet and raring to go. Stand back and watch your team's defending grow with this session!