Move into space to receive the ball and lose the defence!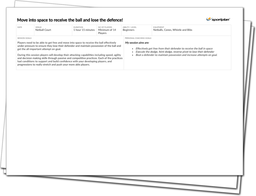 It is important your players can effectively lose their defender to help your team maintain possession of the ball, by offering and re-offering to provide options for the ball carrier.
What?s in the Session?
The session begins with a fun warm-up focusing on your players using and trialling a range of movement to get free from the taggers. This is a great warm-up to get your players focusing on the theme for the upcoming session. The session continues to provide a series of small group drills, allowing your players to practice getting free in small, tight areas. ?End zone game? allows your players to begin using the skills they have learned and apply it to a team situation. Here, your players will start to read off each other and find space to provide offers for the ball. The session concludes with a modified game of netball, with certain conditions placed upon the game to get your players demonstrating what they have learnt.
You players must be able to see and utilise the space available, working as a team and unit to provide at least 2 offers for the ball carrier.