Search
results for

: Technique

We found 52 results matching your criteria:
Drills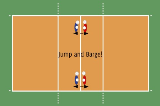 category: 8-Block-Drills
Players stand on both sides of the net and all players have a ball in their hand. They are supposed to jump at the same time as the player opposite th...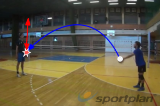 category: 4-Passing-Drills
In pairs, get the players to face each other.
Player 1 underarm throws the ball high to his/her partner so they have to receive the ball usi...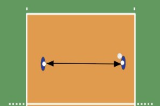 category: 4-Passing-Drills
Players dig the ball, set up their position and then underhand pass sideways to their partner.
Before the second underhand pass is possible...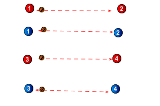 category: 5-Drills
Volley the ball to your partner who digs the ball to themselves then volleys the ball back and you do the same for a set time or number of good con...
Web Videos
To get a Free Volleyball Spiking or Arm Swing Evaluation by Andor Gyulai anywhere in the world visit: ... In this video ...
This video is about how to spike a volleyball with better timing. Timing your spiking approach with a setter is very difficult and this video provides...
... 12 year indoor coach, AVP pro , and USA National beach representative, David Fischer ...
Sessions
Teach your players how to build the bump and use it to set their team-mates up in this grassroots volleyball technique session

Jump serve take over! - Control games with perfect power and accuracy from the set off.

Hands up! Use the block to strike when they spike and use your defence as an offensive tool - blocking the ball back into their court!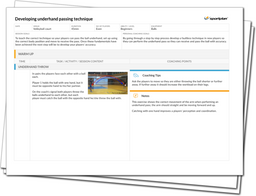 Developing your players' technique performing for the underhand pass, while building their digging, receiving and movement skills.
Community Drills
The objective of this exercise is to get a better technique pitch, the player must perform as many repetitions without dropping the balloon should onl...
Passing the ball between each other using different types of passing techniques ( overhand and underhand technique)Students should get on time under t...
This drill keeps a number of players involved in a player-run drill.Setter sets a back set to hitter. Hitter hits to angle, or rolls / tips to o...
Server and three blockers on ones side.Full team on other side.Server serves. Full team is in serve receive for rotation 1, passes and attempts ...