Search
results for

: setting

We found 82 results matching your criteria:
Web Videos
Learn the fundamentals of how to set a volleyball by learning the proper stance, hand formation, and release. Watch more Volleyball Tutorial videos he...
Learn the proper technique for the front, back & quick set from Olympic Gold Medalist and Sportskool coach Misty May. SportskoolPlus is the number one...
Learn how to set a volleyball better with these 3 quick tricks I've learned over nearly 20 years as an indoor setter that apply BOTH to beach volleyba...
Sessions
Create better setters that can pass the ball effectively and accurately wherever they receive the ball on the court.
Improving coordination and concentration doesn't have to be hard! Find out how with this fun and innovative session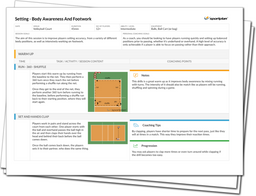 Make sure your players are ready to receive the ball from any position in this awareness and footwork session!
Turn your players into better setters! Fun and innovative drills that will have your players more efficient and knowledgeable when it comes to setting...
Community Drills
Toss ball overP1 passes ball 4x-serve-repeat with setting
Overhead passing in pairs, one up, one accross - variations turn 90, 180, straight ball left right, long shortPassing in pairs - variations one up one...
reception, set and spike between trhee players