Developing Correct Technique For Overhand Passing And Setting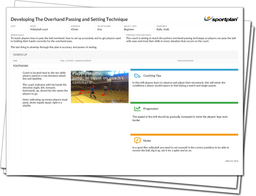 The plan will develop your players' overhand passing ability, how to set accurately and to get players used to the correct technique for the overhand pass.
What's in the Session?
Packed with video drills, the plan starts with two warm ups to get your players' footwork and balance ready for the main drills.
We then move on to honing your players' technique when making the overhand pass, setting and awareness to get into position using good footwork with match-like drills.
The benefit will be your players' accuracy and power will be boosted through developing correct technique.