Search
results for

: drills

We found 43 results matching your criteria:
Drills

Volleyball Volley Pass 4 Passing Drills The first player starts the game with a throw over the net. The two players on the other side of the net comm...

Volleyball 4 Player Dig Pass Relay 5 Drills A 4 player dig pass relay over the net.

Volleyball Rotation Game 5 Drills Divide the court into 3 equal areas with a line across the length of the court. (6m x 9m) 8 players per small court...

Volleyball Target Serving 7 Serve Drills Numbers 1 and 2 serve and aim at the targets. The other players must act as ball boys and keep up the supply...
Web Videos
with Anne Kordes, Associate Director of KIVA Volleyball Club; former University of Louisville Head Coach; 2015 ACC Champions; 2015 ACC Coach of the Ye...
Terry Liskevych goes over the Dig-Set-Hit at The Art of Coaching Volleyball Portland Clinic. This drill is a team ball control drill. More info: ...
Hey everyone! In this video I demonstrate simply passing to yourself; this is especially helpful for beginner volleyballers! The way I show in my vide...
This video shows a number of good drills that Mintonette Volleyball club uses with their kids aged 10-13.
Sessions
Give your players the knowledge and understanding of the roles and skills required for each of the zones of the volleyball court.
Create better setters that can pass the ball effectively and accurately wherever they receive the ball on the court.
Improving coordination and concentration doesn't have to be hard! Find out how with this fun and innovative session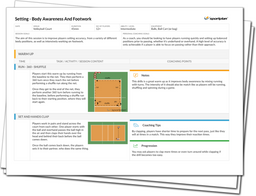 Make sure your players are ready to receive the ball from any position in this awareness and footwork session!