Search
results for

: dig

We found 42 results matching your criteria:
Drills

category: 1-Techniques
Volleyball Slow Motion Dig 1 Techniques Knees bent and legs just wider than shoulder width apart. Eyes on the ball to the point of contact with wrist...

category: 5-Drills
Volleyball Dig Technique Drill 5 Drills Volley the ball to your partner who digs the ball to themselves then volleys the ball back and you do the sam...

category: 5-Drills
Volleyball 4 Player Dig Pass Relay 5 Drills A 4 player dig pass relay over the net.

category: 2-Warm-Up
Volleyball Digging Game 2 Warm Up Start the game with equal or as near as possible teams. Serve an easy underarm serve to start the game then using o...
Web Videos
LIKE A BOSS Compilation | Craziest Moments | Volleyball World ᴴᴰ - https://www.youtube.com/watch?v=yelZecgkO68 New Video ...
Learn how to dig a hard driven spike by watching this volleyball instructional video! This video will review how to position your body, absorb power f...
Sessions
Work on fast feet movement and underhand passing technique with this core skills plan - complete with six video drills for you to watch and coach
Get your hands quickly! Challenge your players to pass under pressure, whether they're getting back to their feet or running at speed to meet the ball...

Dig your team out of a hole and keep the point alive to set up your own attacks. This session works on your defensive plays, most importantly your dig...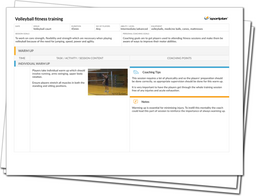 Volleyball is becoming progressively faster and more powerful, so you need the players to match! Build up your players physicality to compete against ...
Community Drills
3 ballen spelen. Als je met 3 wint, krijg je een punt en blijf je staan (wel onderling doordraaien). Anders doordraaien (volledige linie)
Al de oefeningen wel doen maar aanpassen naar gelang aantal aanwezigen1. Ingooien van achter blokker en dan aanvallen in blok2. Blokduel 3. Blok ...
Ofwel spelen we 3 ofwel 5 ballen en dan doordraaien. 2 of 3 opslagen en 1 of twee freeballen door mij ingegooid. Opslag missen wordt freeball. Ve...
Servers (Blue) serve to receivers (red)Servers immediately move into court and dig ball hit from coach on box, attempting to pass to setter.Setter set...