Search
results for

: digging

We found 62 results matching your criteria:
Web Videos
Learn how to dig a hard driven spike by watching this volleyball instructional video! This video will review how to position your body, absorb power f...
Learn why passing is one of the keys to scoring on the volleyball court from Olympic Gold Medalist and Sportskool coach Misty May. SportskoolPlus is t...
Sessions
Improving coordination and concentration doesn't have to be hard! Find out how with this fun and innovative session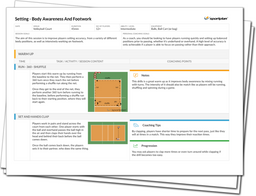 Make sure your players are ready to receive the ball from any position in this awareness and footwork session!
Teach your players perfect technique, footwork and positioning so that they can spike and dig better than ever before!
Get your players down and digging the ball, quickly turning defense into offense!
Community Drills
Digging bad passes into netHave a boss tossed hard tossed into the net. The setter needs to practice bumping the ball out and to the hitter. The hitte...
The players in blue must toss the ball to the players in red in a way that the player in red can either dig or set the ball back. Players in red move ...