Volleyball Drill Demonstration
Description
Players work in pairs with one ball.
Players play within a section of court and are attempting to get the ball to bounce twice to win a point.
Players can catch the ball in one hand to the side of them, moving up and down with the motion of the ball as they catch and release the ball.
Coaching points
As players improve this game can become more competitive, with players using fakes and glances in the opposite direction to send their partner the wrong way, so they can win the point!
Ensure players have sufficient space to avoid pairs running into one another.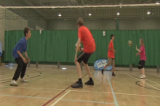 More VSD:GRID GAME Drills
---