Take Advantage - Jump Serve Step by Step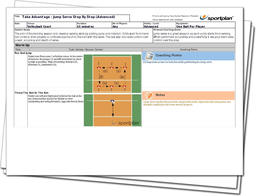 The Jump Serve is a popular serving technique used by many volleyball players to increase the power and height of their serve. In this plan we show you how you can teach your player to perform it with power and accuracy to take over from the set off.
Using the short, simple but advanced video drills, you can coach this session with a whole team or individuals, using the easy to follow serving instructions included with each drill.
Gain an advantage on your opponents and put them under immense pressure from the beginning. Many games have been won from the start, so equip your players with the tools to start in the manner they intend to finish, which is Win!