Blocking Skills - Technique and Timing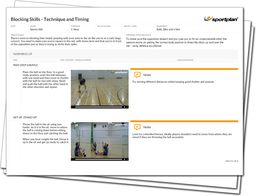 This session looks at turning your players into blockbusters - players who can successfully use the block to neutralise the opposition's attacking threat and turn the tables on them by using the block to either regain possession or score a point!
There's more to blocking than simply jumping with your arms in the air. You need to make sure you're square to the net, with knees bent and that you're in front of the opposition just as they're trying to strike their spike.
What's in the Session?
To make sure the opposition doesn't tool you (use you to hit an unrecoverable shot) this session works on getting the correct body position to direct the block up and over the net - using defence as offence!
Starting with some up and ready and side-stepping warm-ups we then get straight to business, working on strong hands - spreading your fingers with your arms up - keeping your eyes on the hitter at all times to ensure you penetrate and reach over the net (without touching the net!) - directing the ball inside the opposition's lines!
Try this session with your team today!