Search
results for

: movement

We found 51 results matching your criteria:
Drills
category: Movement
Tennis Drop Step Movement Player stays behind the baseline. Player imitates the movement to the right side using a drop step. Drop step means that a ...

category: Movement
Tennis 'X' movement Movement Purpose: learn to move in an "X" pattern under pressure of movement. Coach feeds the ball in the sequence 1,2,3,4 for ea...

category: Movement
Tennis Quick Change Movement Coach stands in front of the player and feeds random balls (Forehand, Backhand, Low, Short, Deep etc). Player has to rea...

category: Movement
With a wealth of experience and as part of New Zealand's World Cup winning coaching team, Marg is ready to pass on her knowledge to answer your coach...
Web Videos
Transform Your Tennis Footwork In 10 Minutes - Instant Tennis Improvements. Footwork and movement in tennis is the glue that binds our entire tennis g...
Players with great tennis footwork are very difficult to beat. If you can cover the court well and don't miss much, you will win a lot of Tennis match...
Footwork myths debunked: Former Top 100 ATP Pro, Jeff Salzenstein, is exposing 3 common myths that could be crippling your potential. Most players mak...
Sessions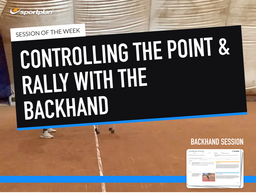 Develop your players movement into their backhand to create combinations to transition from defence into attack.

Use the inside-out forehand to get your opponent off balance by playing the ball into the space behind!

Work on setting up offensive position on the court by thinking a shot ahead to approach the net and finish with an easy volley or a booming overhead.

Put some punch in your players' volleys and have them closing down the angle to put pressure on their opposition as they go on the attack!
Community Drills
Group Drill For developing Movement and a consistent Forehand based on hi percentage shotsLoad on the legs to generate pace.Hit the Ball on the rise&n...
Part 1:Players use half width court to rally from baseline. Nominated player is trying to score 50 points hitting into 1,2 or 3 point zone. No points ...