Sending and receiving low balls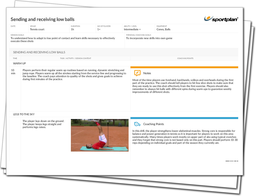 Help your players adapt a low point of contact and learn the necessary skills needed to pull off the low shots, such as the backhand slice. By effectively being able to use these shots, your players will be able to catch the opposition off guard, with mixing up their play and using a variety of tricky shots.
What?s in the session?
With a number of clear video exercises, such as keep your legs low, get your players maintaining the right stance and position to make the low ball. To improve their low shots, your players will need to adapt both tactically and technically, knowing when is right to execute the low ball and also to use the correct technique.
Get your players able to effectively reach and then play the low shot with this session!