Search
results for

: volley

We found 44 results matching your criteria:
Drills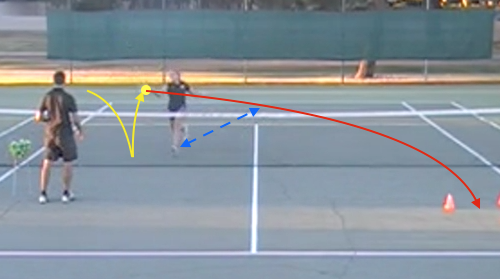 Tennis Offensive Running Volley Attacking Player starts on the service line. Coach stands close to the net and feeds the ball off own side.

Tennis The Volley Train Coordination / Fun Games - Volley to each others Forehand only. -The first pair to successfully complete the task is the winne...

Tennis Volleys Volley Drills Coaching points: - Quick feet - slow racket. - Hit for about 2-3 minutes. - Make sure that the ball is controlled.

Tennis Agility Rally Volley Rally Drills Both player inside service line 1 near to to centre and other service line/sideline. Player hits volley to co...
Web Videos
... How To Hit Perfect Tennis Volleys In 3 Steps. In this tennis volley video lesson Top Tennis Training coach Simon Konov ...
There are two common mistakes on the volley that occur at the recreational level. Players frequently tuck their elbow inward and commit frustrating vo...
Want to meet new players & play more tennis? Try PlayYourCourt for free here: https://bit.ly/2HjZ0Gj Want to dominate the net? Grab our Net Mastery Co...
Want to start winning more matches? Watch our free tactics & strategy video lesson here - https://www.top-tennis-training.com/tactics-course.
Sessions

Encourage repetitive hitting so players can start controlling their balance and reactions when at the net.

Instil the winning instinct in your players and get them to assert themselves on court and spot when the time is right to whack a winner!

To work on different hitting patterns from the serve and into the first shot after the return.
To improve skills that are necessary to take advantage of short balls and win points at the net.