Short on time? That's where our weekly Tennis lesson plans come in handy!
Throughout the season our resident coaches share what they are coaching with you so you can use it too. No two weeks are the same.
All plans contain videos and diagrams. Watch the videos to quickly understand how to run the session
Clear instructions, coaching points and progressions allow you to coach with confidence and challenge your players
Read the plans on any mobile, tablet or computer. You can save the plan as a PDF or print a copy to take on the pitch/court.
Latest Tennis Plans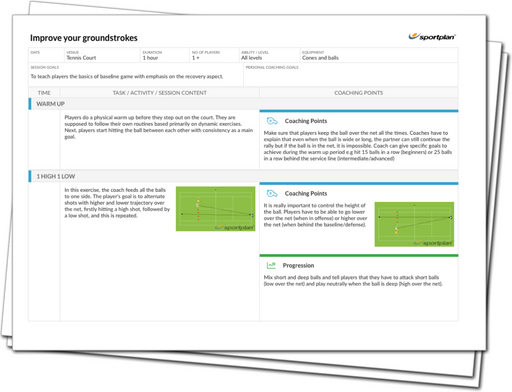 Improve Your Groundstrokes
Build your power, hone in your accuracy and develop into the best grinder in the game with flawless groundstrokes.
Surprise opponent with variety
Develop the ultimate all-round game to never allow the opponent to settle.
Solid game based on fundamental principles
To work on players baseline game focusing predominantly on reactions but also technical, tactical, physical and mental aspects of building and winning a rally.
All our plans are written with a clear goal in mind, to help you improve a key area of your players' game through simple drills, conditioned games and skill practices.
We work with a large number of coaches and sports educators so that we can bring you the widest range of ideas and coaching for all ages and abilities. All our plans have been tried and tested. We find out what works and what doesn't, saving you time and helping you to get results with your team/players... fast!
You can coach these sessions as they are or alternatively use them as a springboard for your own ideas.
Browse Tennis Lesson Plans by category
Prev
Next
What our users say
Thanks for everything! Sportplan has helped me to improve my tennis lessons, making them more interesting and fun.
Thank you very much for the marvellous site.
I have used many of the tennis drills and as a result my two High School teams has gone the entire season without conceding a single defeat.