Fun session for kids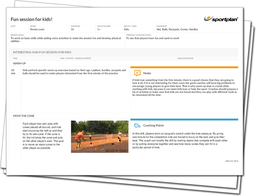 This session works on the basic skills needed for Tennis but from a fun angle - perfect for your younger players! At a young age, it's key to make your training interesting but enjoyable, keeping your players coming back to training. This training session is not only fun, but will work on developing the key basic skills for your players, such as racquet control and agility.
What's in the Session?
Go through a number of highly enjoyable drills, all working on the key skills that your younger players need to develop. Work on areas such as placement of the groundstroke, controlling the forehand and coordination. With the use of visual aids such as cones is perfect for younger players, as it'll give them a target to aim for and surpass! You can even modify some of the drills to be under a time restriction, providing some competition between your players, for an added factor of fun.
Use this session and get your players enjoying training once more!