Backhand slice: Useful defence to change pace and speed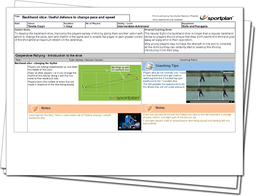 The focus of this week's session is placed firmly on developing your players' backhand slice; giving your players a greater variety of shot with which to mix the pace and spin of the ball.
The backhand slice, a favourite of the Williams sisters, is a great defensive shot to use if you need to buy yourself more time, push your opponent back and give yourself an opportunity to approach the net! This is because this is a shot that can be played at stretch and doesn't bounce high - making it difficult for your opponent to attack!
As with most strokes in tennis, the key thing to the slice lies in the preparation!
To help your players get into position and perfect this subtle one-handed stroke, this week's session starts with a quick technique recap and then gets under way with a series of changing the rhythm of play drills.