Smash means the End!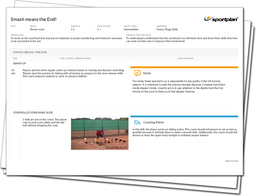 This session helps perfect your players overhead technique, making sure they put away the smash effectively! Poor footwork and positioning can often lead to a mis-timed and poor shot, giving the opposition a chance to get back in the rally; whereas it's important that your players finishes off the rally with a powerful smash.
What's in the session?
Get your players warmed up with some simple but effective exercises, making sure they are fully prepared and focused for a good session. We then move onto working on your player's technique, improving their position on court and their placement of the shot. Continue through the session to work on areas such as footwork and ball perception, recognising an opponent's high shot is heading in or out, as well as building up consistency.
Get to work on your player's overhead shot and watch them smash to victory!