Improve Your Groundstrokes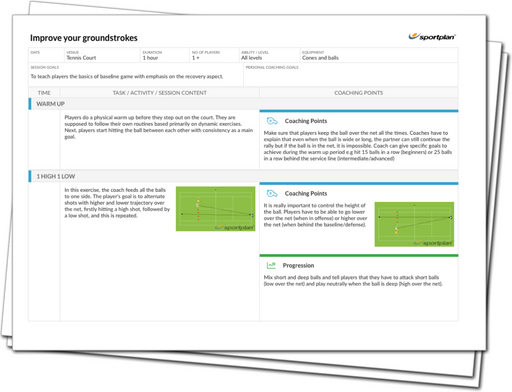 This week we?re improving your player?s groundstrokes, working on the baseline game while ensuring they learn to recovery quickly and correctly.
Groundstrokes are normally used on baseline rallies, and focus on power and accuracy. That?s why this session works on improving both of these, giving players specific targets to hit using both forehand and backhand groundstrokes.
What's in the Session?
Starting with a quick warm-up, the session then throws your players in at the deep end by immediately testing the accuracy of their groundstrokes by testing them to hit one ball high over the net, and the next ball lower repeatedly using both forehand and backhand. We then look at players recovery habits by getting your players to recover quicker than ever from their serves.
The session then gets players working on consistency through various drills as it ensures your players won?t be beaten on baseline rallies.