Better footwork, better tennis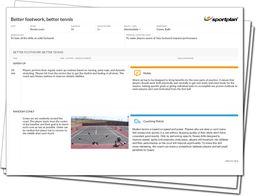 Work on your player's footwork to improve their tennis with this session! Having good footwork is essential to their performance and it's important that your players recognise this. Better footwork = better tennis!
What's in the session?
When making the right shots, it's important that your players have good footwork to assure good positioning when on court. Get them used to performing at a high intensity with their legs, testing them out in difficult match-like situations, with challenging exercises such as the controlled wide ball. Work on both their backhand and forehand within a rally, helping your players to reach a high level of consistency and developing their decision making.
Help your players on court and improve their footwork!