Search
results for

: Passing

We found 219 results matching your criteria:
Web Videos
Basic Hockey Passing Techniques.
This is an excellent series of coaching videos produced by England Hockey to help players develop their skills. Want to see more? Just subscribe! Enjo...
How to execute a good Field Hockey Push Pass.
Welcome to the FT Academy! A new series created to help you train and learn from the best instructors in the world of sport. From Pro to Amateur the F...
Sessions
Don't get caught standing! Teach your players this all-in-one receive and run onto the pass skill to give them the extra yard
Unlocked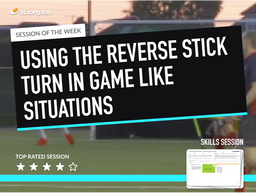 There's no shame in turning back. Teach your players to keep-ball to create space and then to continue the attack!
Unlocked

Teach your players that Passing and Receiving is the fastest way to progress the ball up the pitch!
Unlocked

Get your players taking up forward positions on the pitch and overlapping to offer extra attacking options!
Unlocked
Community Drills
Set up 4 cones in a square. 3 players have to pass the ball around from cone to cone, they have to make sure the person with the ball has always two o...
Playing at match intensity, across the 25, pass and follow until final dribble & shot on goal. Race to get all players back to centre line. Run to mee...
Players pass up the channel, drop the ball off and sprint as hard as they can back