Search
results for

: push pass

We found 33 results matching your criteria:
Drills
category: Practices-For-Juniors
Hockey Push Pass Static Practices For Juniors - Static push pass.

category: Practices-For-Juniors
Hockey Push Pass: Give and Receive Practices For Juniors - Practice giving and receiving the push pass - Beginning to lead in and out of the pass.

category: Warm-up-Games
Hockey Relays: Push Pass Warm-up Games - Two groups - Practice push pass off both feet - Dribble with the ball, then pass on the move - Strongside to...
category: Passing-Receiving
Hockey Push Pass Static Passing & Receiving - Static push pass.
Web Videos
In this video, Paul explains the Push Pass. But there is a biggg disagreement about if the name is right or wrong. Do you think what is is? Let us kno...
How to execute a good Field Hockey Push Pass.
This is an excellent series of coaching videos produced by England Hockey to help players develop their skills. Want to see more? Just subscribe! Enjo...
Sessions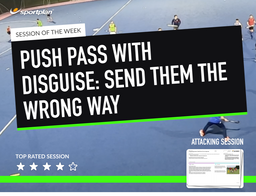 Passes too easy to read? If so this plan will help your players Push Pass with disguise, to keep the defender guessing
Teach the push pass to improve your players' passing technique, and their ability to make accurate passes over short-medium distances
Masterclass in the dark arts of passing. Develop your team's passing and help them to get the ball for longer with this possession session!
Community Drills
Individual push pass for accuracy drill.Set up as many sets of cones as there are girls.Each girl gets 5 balls and keeps their own score.After everyon...
Basic square set up with cones5 players per squareOne player in the middle will receive the ball from a player on the outside and the pass to the next...
1 ball on each grid4 cones4 girls - one on each coneif odd number have 2 girls on 1 cone switch offDiagonal passes (blue line) = hithorizontal passes ...
Needed? 9 Cones, 4+ Players, Goal, GoalieHow? Balls start at the Bottom Right side of the square. Player passes to Top Right, then Bottom Left, then T...