Search
results for

: Short Corners

We found 33 results matching your criteria:
Drills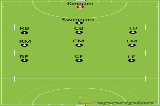 category: Roles-and-Responsibilities
When team in possession of the ball:
Keeper
To get the ball out of the circle
Maybe set-...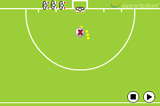 category: Goal-keeping
This is the final progression in the diving technique. The goalkeeper starts on their line and runs out 3 / 4 paces before stopping. You then star...
Web Videos
With the Olympics starting in Rio today I really hope we will see some short corners like these ones. Feel free to leave a like and subscribe.
Team GB's Dan Fox and Nick Catlin introduce our tutorial to take a short corner in Olympic Hockey. Dan and Nick guide us on both the attacking and def...
For the Power, Precision and Beauty of World Hockey subscribe here - ... How To Hockey - Penalty Corners Episode 10 Visit FIH on: ...
Australian mens hockey player Jeramy Hayward does a suicide run against Korea. Putting himself in direct line between the ball and the goal, he takes ...
Sessions
Stop unnecessarily giving away possession through sloppy fouls with this fair play session.
To make this season a little easier for you we've created this coaching confidence guide - providing you with a clear tips and information you can use...
Community Drills
Nic toun through 3 routines: straight strike, left slip, right slip and back to p-spot with attackers while Ant gets defenders organised
Practice short corner routines:1. Straight strike2. Slip right3. Slip left Players not involved in short corners should practice individual skills eg:...
Activity 2- short cornersMake sure the injecter is 5M away from the goal. Thers should be 4 defenders and 1 goal keeper in the goal. There are 6 attac...
Common set-up for penalty/short corners