2 v 1 in a game situation - Drawing in the Defender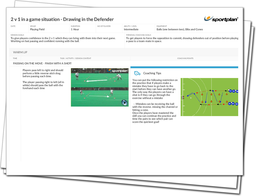 To give your players more confidence in the 2 v 1 (which they can bring into their next game) this session works on fast passing and confidence when running with the ball.
If your players are able to run with the ball confidently they can deliberately draw the opposition out of position, creating space for a team-mate to run into the space for the pass.
What's in the session?
To get your players drawing defenders out of position before playing a pass to a team-mate in space, this session opens with some tippy-tappy speed passing exercises, getting players to keep their head up and pass quickly before moving swiftly on to a series of simple 2v1 drills.
Now that your players are nicely warmed up we divide the pitch into zones and get your players to run with the ball at speed, picking the perfect moment to switch to their team-mate who's making the supporting run before finishing with a Four Zone Game, specifically designed to promote 2v1 play!
This session is available as part of an Interactive Coaching Pack, scroll down to learn more