Search
results for

: Ball Handling

We found 28 results matching your criteria:
Drills

category: Handling
The aim of the exercise is to develop ball control and reaction catching skills.

category: Agility-Running-Skills
• The aim of the drill is to develop SAQ and handling the same time.
Web Videos
Try these two fun drills from the England Rugby lads to improve your ball handling skills in rugby. #CommittedToTheGame.
A rugby skills masterclass in passing and handling from Ian Gibbons, elite rugby strength and conditioning coach. ... https://www.facebook.com/Lucozad...
Only need a rugby ball (or Volleyball)
Sessions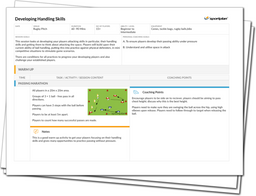 Develop your team's ball handling under pressure, giving you the best attack going forward!

Help your side avoid the breakdown by focusing on their continuity skills - keeping the ball moving and starting to work on contact!
Take the tick out of your players' passing so that they can pass more efficiently, with more POWER and keep the opposition guessing for longer
Time waits for no man, so use this easy to set up attacking session to get your players thinking on their feet and playing fast, quick-thinking and in...
Community Drills
Grid Passing drillspaasing drill 1passing drill 3
Bat & Ball Handling DrillPlayers in semi circle about 2m away. Player passes ball to coaches chest, Coach uses a held ball to 'bat' it off t...
Description:Blue Player 1 runs towards the cone to draw red defender.Blue player 1 times the pass to blue player 2 who must remain in a deep position ...