Continuity Play - Passing your way out of the tackle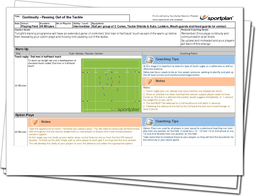 To work your players hard and see what the summer break has done to their fitness levels we test their tackling and passing technique. Tackling is tremendously energy sapping and where possible players should always look to pass the ball out of trouble in order to avoid the breakdown and preserve their energy with continuity skills.
What's in the Session?
To promote these positive playing values in your players we continue from where session 1 left off by looking at option plays before then progressing into some ball handling pressure drills. In these exercises your players will practice playing with contact where the objective is to try and avoid going to ground with the ball - instead successfully offloading the ball with use of continuity skills. However it's not always possible to get the ball out in time which is why we then look at speed mauling to support the first player.
This session is available as part of an Interactive Coaching Pack, scroll down to learn more