Phase Play and Continuity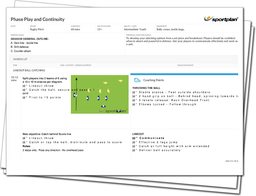 This session looks through developing your team's attacking options, working hard from the breakdown in play or from a set piece. Watch your players grow in confidence when going forward, as well as being powerful when defending against the opposition. It's vital that your team communicate together to keep the ball - are they working as a unit?
What's in the session?
Make sure your players are ready to go from the off and throw them start into a set piece situation, by starting off with a lineout exercise. It's important that your players get thinking about the important attacking edge needed in a set play, making the most of the opportunity and be able to keep a hold of the ball.
Continue onto our different skill development practices, working on areas such as evasive running, counter attacking and the touch ruck. These drills will get both your players working hard to keep the ball continuing onwards in both attack and defence, focusing on the right positions and tactics for both sets of players.
Use this session to watch your players start continually playing with confidence and power!