Search
results for

: a ball

We found 158 results matching your criteria:
Sessions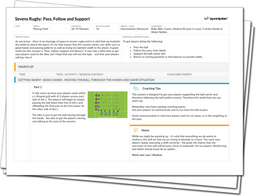 Get your players to use the width of the pitch and play intelligently, offering wide support options in this sevens rugby session.
Community Drills
Set up 20m x 20m grid,place 4 cones equally spaced across the grid 5m out from the base line and another 4 equally spaced across the try line.queue 4 ...
Improving the box kick with accuracy and under pressure.Replicate the ruck site with tackle bag and 2 cylinders. 1. Have 10 rugby balls. 2. ...
Players each have a ball and start in the inner square. BOTH HANDS hold the ball.2 chasers outside of the inner square, stand on the line of the outer...
Firstly i will get the players do the passing techniques without the ball so they get a good understanding of how to do it, then i will introduce a ba...