Search
results for

: attack

We found 100 results matching your criteria:
Web Videos
TURN ON NOTIFICATIONS TO NEVER MISS AN UPLOAD! How do you like that, Federer playing crazy attacking tennis like you've never seen before, after ...
... Free Tennis Lessons | How To Kill Short Balls In this video, coaches Simon and Alex demonstrate a reaction drill to help you ...
Click Here For FREE Serve Video Course: https://www.ctwacademy.com/serve-course Learn attacking tennis like the pros. Learn the key points to consiste...
Learn how to be fearless, aggressive and successful while at the net with Sportskool tennis coach Brad Gilbert. SportskoolPlus is the number one video...
Sessions

Can your players backhand slice like the Williams sisters? Find out with this defensive backhand slice session!
Unlocked

Work on setting up offensive position on the court by thinking a shot ahead to approach the net and finish with an easy volley or a booming overhead.
Unlocked

Put some punch in your players' volleys and have them closing down the angle to put pressure on their opposition as they go on the attack!
Unlocked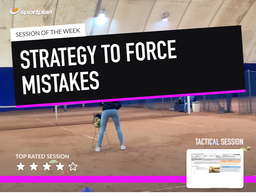 Attack with purpose and work on your player?s tactics with this session, ready to outfox the opposition
Unlocked
Community Drills
The coach feeds an easy ball to the player where he will return a normal safe ball. He will then recieve the next ball where he will progress forward ...
A Serve from the AD side in the middleReturn high ball on the forehand side3th ball attacking highball down the line5th Ball smash
All court drill- one player at a time-6 shots ( 3 def- 4th attack- 5 volley- 6 smash )- play the point out after the smash against two players at base...
Deep feed for groundstroke, short feed for transition, split position at net.Set up with deep groundstroke, attack second ball w/ hop step approach, m...