Dealing with moonballers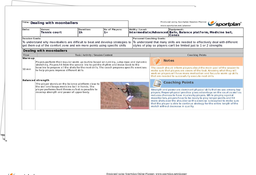 Help your players deal with moonballers and get back on the attack with this session! Your players will need to understand what needs to be done to beat moonballers, by working on different strategies to get the opposition out of their comfort zone, improving a number of key skils and shots.
What?s in the session?
With the use of clear and fun video drills, work on helping your players deal with different styles of shots and play, such as high balls. Exercises such as Sneaky volley, watch your players being able to tricky shots and changing them into a winning point, putting them on the front foot. Work on a number of key skills, including the cross-court backhand, so your players won?t be wrong footed by the high or deep ball!