Search
results for

: warm up games

We found 26 results matching your criteria:
Drills

category: Tag-rugby
Rugby League Warm-up tag Tag rugby Start your session by splitting the players into two ... Once the teams have been decided begin the game of touch ...

category: Warm-up
Rugby League Bulldog on knees Warm up Simple game for teaching tackling when on your knees. Starting with initially two tacklers and the rest as atta...

category: Warm-Up
Rugby Bank Robbers Warm Up Keep your player briefing, brief! Tell the players the following laws for this exercise..... Players must start the game b...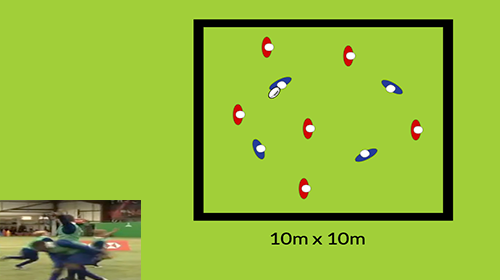 category: Warm-Up
Rugby 10 Pass game Warm Up 2 teams Bibs Balls one team musttry and complete 10 passes in a small grid. Whne player has ball in his hand he cannot mo...
Web Videos
Here is a fun way to warm up your rugby players using RAMP. Raise, Activate, Mobilise and Potentiation.
simple warm up drill for rugby players JOIN OUR CHANNEL FOR MORE RUGBY DRILLS!!!!
This video is about SB Rugby Academy Contact Warm-Up.
Here are some fun fitness team games to keep your players thinking whilst under pressure and tired. Only equipment need is coloured cones. Try it out ...
Sessions
Improve your players' speed and drive at the breakdown to help them win the contest with this powerful ruck skills session
Unlocked
Community Drills
Rugby Net BallBall can be passed in any directionNo running with the ballTry to get ball to player in score zoneonly attacker allowed in coned score z...