Search
results for

: accuracy

We found 53 results matching your criteria:
Web Videos
1. First of, there are two ways to hold the stick: choke grip (short and low) or high grip (hands on top of it). 2. Both hands must go together with n...
Team Singapore hockey player Laura Tan talks us through the basic steps to shooting in field hockey. Join her and SportSG brand ambassador Gary Yang o...
How to hit harder in field hockey: ... Lauren Penny, Hockey Performance Coach from HPA explains and demonstrates how ...
Sessions
Reduce turnovers and make misplaced passes a thing of the past! Use this plan to teach players to pass with power and accuracy off both feet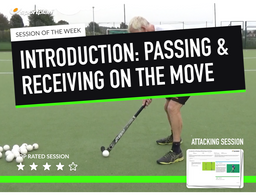 Don't stop moving! Speed up gameplay by working on your junior players' ability to pass and receive on the run!
Develop your team's ability to zip the ball around the field with skill and confidence.

There's no goals in this passing focused training - it's designed to improve pass completion, player communication and pass accuracy
Community Drills
Individual push pass for accuracy drill.Set up as many sets of cones as there are girls.Each girl gets 5 balls and keeps their own score.After everyon...
Lay out 6 cones in a grid as shown and split the group into pairs. The pair line up facing eachother with "player one" on cone 1 and "p...
Each player fakes to L and pulls R around each set of cones, then goes to middle and takes shot on goal. Can attempt to drag in circle to R to score.w...
Line up between the 23m and D2 passes and then ones the player in the D receives the ball they take a shot.Fast pace, accuracy