Search
results for

: 1 v 1

We found 30 results matching your criteria:
Drills

category: Agility-Running-Skills
The aim of the drill is to develop SAQ And beating a defender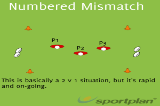 category: Sevens
Tell your players the following....
They each have a number, 1, 2, and 3.
They will jog up and down the grid, until the coach...

category: Scrum
The aim of the drill is to develop strong positive profiling and to develop core-stability against opposition. 1v1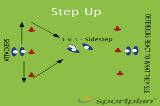 category: Sevens
The attacker goes when ready, and must round either the top or bottom cone.
The defender must mirror the movements of the attacker o...
Web Videos
Crusader players Casey Laulala and Tim Bateman demonstrate a simple 1 v 1 evasion drill at Crusader training. These skills are player driven and pract...
Mon snap: Pilou637 Mon instagram: Pilou637.
Here's our countdown of the top 5 try saving tackles from the first week of the Rugby World Cup. Which is your favourite? Anybody unlucky not to make ...
Community Drills
Set up at Posts 3 metre out round a cone then 4 v 1 v 1 in tight space Round another cone then 4 v 1 in wide space
5m x 5m gridTwo Handed TouchCan score on the two sidesOne go at itEvasive Skills - AttackReduce the Space as defender - Defence