Search
results for

: juniors

We found 21 results matching your criteria:
Web Videos
The Central Pulse hit the Hawke's Bay and helped to promote Netball New Zealand's new Junior Netball campaign.
This is the final in the netball competition at the 2016 Koru Games, a year 7 & 8 South Island sports tournament. The match is played between Hillview...
Netball New Zealand is pleased to introduce the new Netball New Zealand (NNZ) Junior Netball Programme that is being rolled out nationwide this year. ...
Sessions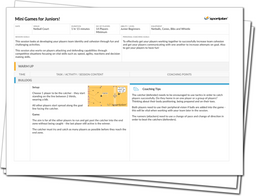 Help your junior players bond and play together with this mini games session, with plenty of fun exercises to get them smiling!
This session will help improve your player's footwork, in a number of basic but effective drills.
Chest passing is the most used pass in Netball, so teach your beginners to pass perfectly in their matches.
Can your juniors hold their space when attacking? Use this session to teach them how to hold off defenders and create more space to move into and rece...
Community Drills
Can use cones for juniors to help them with foot/push off placement and remembering type of footwork at each changeGreat for warm up, could incorporat...
Have feeders staggered down the court on alternate sides.The feeders all hold a ball.The working player makes their way down the court receiving a bal...
If your players are:timid catching the ball orjust have trouble catching a hard pass oryou want to incorporate some ball work with fitnessthe followin...
Set up three hula hoops in a line, about 5 metres apart. The players work down the line one at a time.They need to run, jump then land in a balan...