Search
results for

: shooting

We found 47 results matching your criteria:
Drills

Handball shooting drill : pivot 521 Shooting back court players Blue 1 and 2 pass to pivots red 1 and 2 who come forward to receive passes and throw ...

Description. Pass diagonally B3-B3 or B2-B1. Passes : - normal - hard - bounce pass - high. Coaching points. dive shot 1. Out of step- or turning mov...

Handball Cross-Court Pass and Shoot 324 blocking Starting on the right backcourt player passes from right to left. When the third player receives the...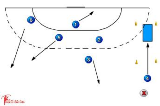 Players run around the area, changing direction regularly.
One player is the flight controller and tags players who must run to the landing ...
Sessions
This Sportplan session is sure to be a winner with your players as we focus on the explosive jump shot - an elegant, powerful and highly effective sh...

Use this session to teach your players to fix their man, with a drop of the shoulder and introduce your older players to the advanced 0-Step

Be the fittest team on the courts when the season comes around. This comprehensive session covers all aspects of fitness for handball in a professiona...

Teach your players to hit the bullseye every time with this week's accuracy games-based session