Search
results for

: pivot

We found 47 results matching your criteria:
Drills

category: 521-Shooting-back-court-players
Handball shooting drill : pivot 521 Shooting back court players Blue 1 and 2 pass to pivots red 1 and 2 who come forward to receive passes and throw ...

category: 319-diving-and-shooting
Description. Pass diagonally B3-B3 or B2-B1. Passes : - normal - hard - bounce pass - high. Coaching points. dive shot 1. Out of step- or turning mov...

category: 548-6-0-defence
Description. Pass 1-3-1.Defender 1 steps forward to attacker 1.Defender 2 takes pivot 2. Coaching points. Change attack-defense after 3 minutes. read...

category: 531-cooperation-in-defence
Handball defend pivot 531 cooperation in defence Pass 1-3-11 goes a bit to the left.Defender 2 steps forward to attacker 1.Defender 1 takes pivot 2.s...
Sessions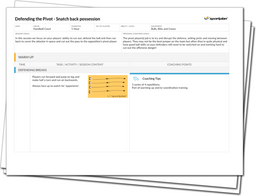 Put pressure on the opposition's pivot player with this interception skills session - teach your defence to run out, cut out the pass and get back in ...

Sometimes individual ability isn't enough! Work on improving your side's tactical awareness to grind out those victories!
How well can your players shoot when put under pressure? Find out in this Match-like shooting session!
How do your players cope when the opposition are in their face? Find out with this playing in congested space skills session
Community Drills
Delimitem una zona amb 4 cons a zona centre. 4 defensors (dos per línia). Dues files a zona lateral i pivots/extrems a zona exterior.Els defens...
Disposition:3 defenseurs2 back players1 column in the center, with a ballPlan:The defence starts at a cone or in the middle The center player fix...