Search
results for

: jump shot

We found 258 results matching your criteria:
Web Videos
This guide shows you How To Jump and Shoot in Handball Watch This and Other Related films here: ...
Trick Shot Showdown winners Ignas & Karolis from Lithuanian club KTU handball were invited to take their handball skills to Denmark by SELECT and reco...
Sessions
There's something for everyone in this jump shot session - Get your players hitting the target with this explosive technique!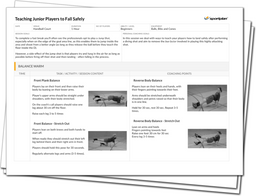 Stop needless injuries and take the fear out of falling by teaching your junior players' how to fall and land safely after playing a jump shot!
Prepare your side for matches with training in game situations, working on their passing and shooting.
How well can your players shoot when put under pressure? Find out in this Match-like shooting session!
Community Drills
The players will be put into two teams and spread out into two lines parallel to each other. A row of 5 cones will be in front of them, and the aim of...
Players A - PassersTwo players will pass to each other whilst moving in a foward direction to the goal from the half way line.Once on the edge of the ...
The left wing passes the ball to the left half who is moving towards the defender and then releases the ball to the centre back who facks a under arm ...
-Players will stand on a cone each.-They will pass the cone to th cone ahead then follow the pass.-Once the ball reaches the player on the red cone, t...